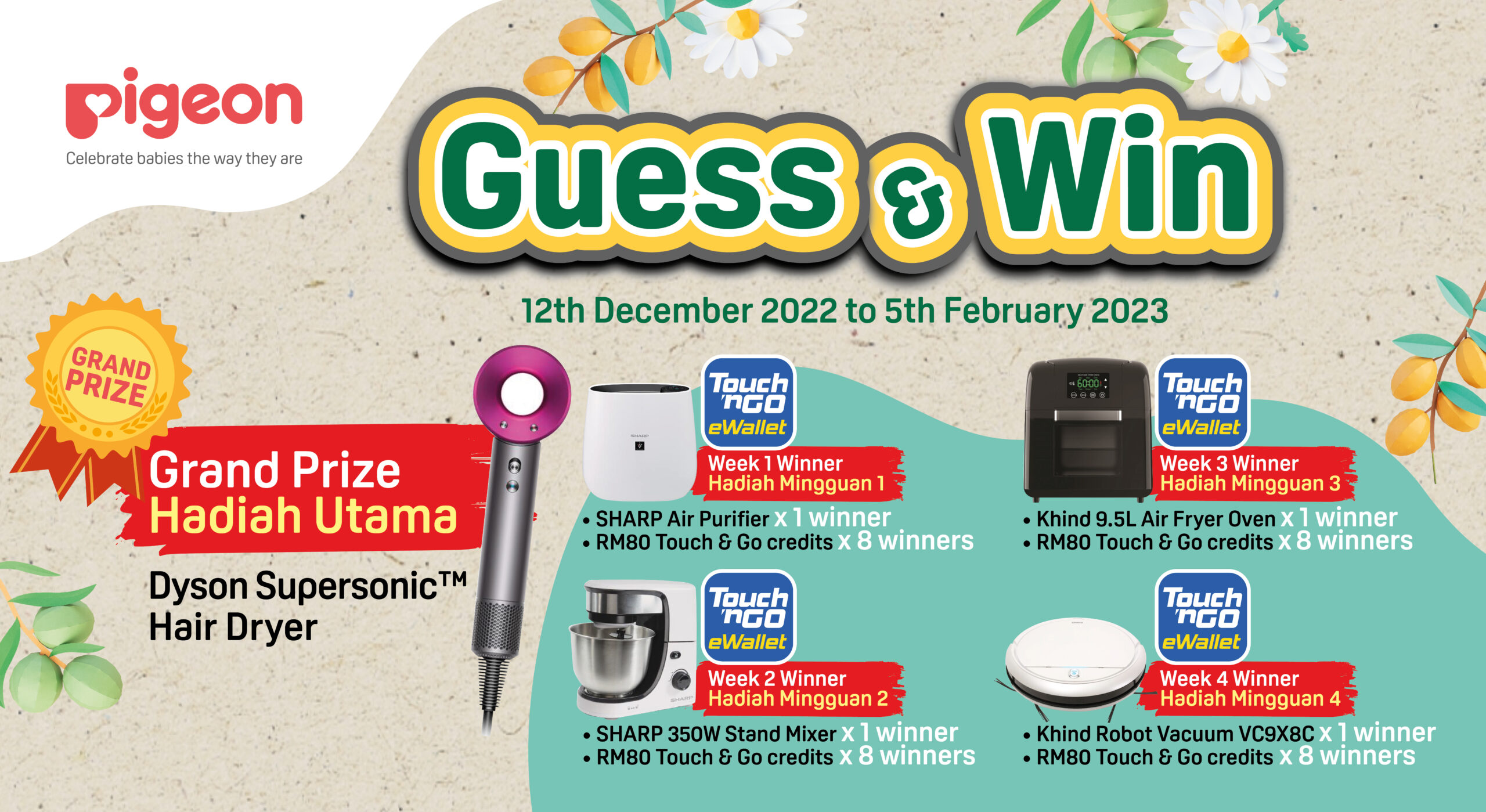 Splish splash! What is that floral smell?
It's our refreshing Natural Botanical Baby skincare!
Just one whiff and your little one will be captivated by its delightful scent. Silky and smooth, our wash glides effortlessly from head to toe for a thorough (and gentle!) cleanse. Infused with Argan, Olive, and Chamomile Extracts, our skincare keeps your baby's delicate skin and hair nourished and protected every day, all year long. With Natural Botanical Baby, bath time will always be a fun time!
Now there is even more reason for you to love it! Stand a chance to win amazing prizes (such as our Dyson Supersonic Hair Dryer!) when you purchase our Natural Botanical Baby range from 12th December 2022 to 5th February 2022!
Scroll along to learn how you can participate!

Other rounds:
Terms and Conditions
This contest is open to all residents of Malaysia except employees of Pigeon Malaysia (Trading) Sdn Bhd ("the Organiser") and its associate companies, distributors, advertising and sales promotion agencies and members of their immediate families.




ㅤㅤㅤㅤㅤ

Participants must purchase Pigeon Natural Botanical Baby products in a single receipt of RM50 and above at all participating outlets to enter.




ㅤㅤㅤㅤㅤ

All entries must reach the Organiser before the deadlines below. Multiple entries submitted within the contest period are accepted.
ㅤㅤㅤㅤ

Round #

Week #

Submit By

Round 1

Week 1

Dec 18

11.59pm

Week 2

Dec 25

11.59pm

Round 2

Week 3

Jan 1

11.59pm

Week 4

Jan 8

11.59pm

Round 3

Week 5

Jan 15

11.59pm

Week 6

Jan 22

11.59pm

Round 4

Week 7

Jan 29

11.59pm

Week 8

Feb 5

11.59pm

ㅤㅤㅤ ㅤㅤ

Participants must provide all the requested details to validate the entry as indicated in the contest promotional material. Participants need to submit their entry with a photo of the purchase receipt and WhatsApp them to +6011 3192 8865 with the following details:

Answer:

Name:

Contact Number:

Address:

Email Address:

Age:

ㅤ
ㅤㅤㅤㅤ

Each valid entry must be accompanied with the required picture of Proof of Purchase. Each Proof of Purchase is only eligible to one (1) submission only. The Organiser shall reserve the right to disqualify any submission with duplicated Proof of Purchase.
ㅤㅤㅤㅤㅤㅤ
The weekly winners will be randomly selected based on entry with the correct answer. The judges' decisions are final and no correspondence will be entertained.
ㅤㅤㅤㅤㅤㅤ
The grand prize winner will be selected based on the highest value purchased with the correct answers. The value of all purchases will be accumulated at the end of the contest, therefore multiple entries are encouraged. Pigeon's decision on winner selection shall be final, conclusive and binding and no appeals shall be entertained.
ㅤㅤㅤㅤㅤㅤ

The winners will receive one of the following prizes:

One (1) Grand Prize of Dyson Supersonic Hair Dryer
One (1) Week 1 Winner of SHARP Air Purifier
One (1) Week 2 Winner of SHARP 350W Stand Mixer
One (1) Week 3 Winner of Khind 9.5L Air Fryer Oven
One (1) Week 4 Winner of Khind Robot Vacuum VC9X8C
Eight (8) Weekly Winners of RM80 Touch n Go credit
ㅤㅤㅤㅤㅤㅤ

The winners will be announced on https://pigeon.com.my/ and be notified via WhatsApp.
ㅤㅤㅤㅤㅤㅤ
The prizes are subject to availability and may differ from what is shown on the packaging or any contest promotional materials. All items are not transferable or exchangeable for cash.
ㅤㅤㅤㅤㅤㅤ
The prizes will be delivered to the winners. The Organiser bears no responsibility in the event of loss, damage or misplacement of prizes while in transit. This is also the case once the product has been handed over to the respective winners.
ㅤㅤㅤㅤ

The winners may be required to attend a prize-giving ceremony. The Organiser reserves the right to use the names and photographs of winners for advertising and publicity purposes. Representatives of winners are not allowed.
ㅤㅤㅤㅤㅤㅤ
Should the winner be uncontactable within three (3) days, the Organiser reserves the right to award the prize to a replacement winner or forfeit the prize entirely.ㅤ
ㅤㅤㅤㅤㅤㅤ
The participants knowledge that The Organiser is authorised to process the personal data provided pursuant to this contest in accordance with its privacy policy which can be found on https://pigeon.com.my/privacy-policy/
ㅤㅤㅤㅤㅤㅤ
By participating in this contest, participants agree to be bound by these Terms and Conditions, and all decisions by the Organiser are final. The Organiser reserves the right to change, amend, add or delete any of these Terms and Conditions without prior notice, and such changes shall bind participants.