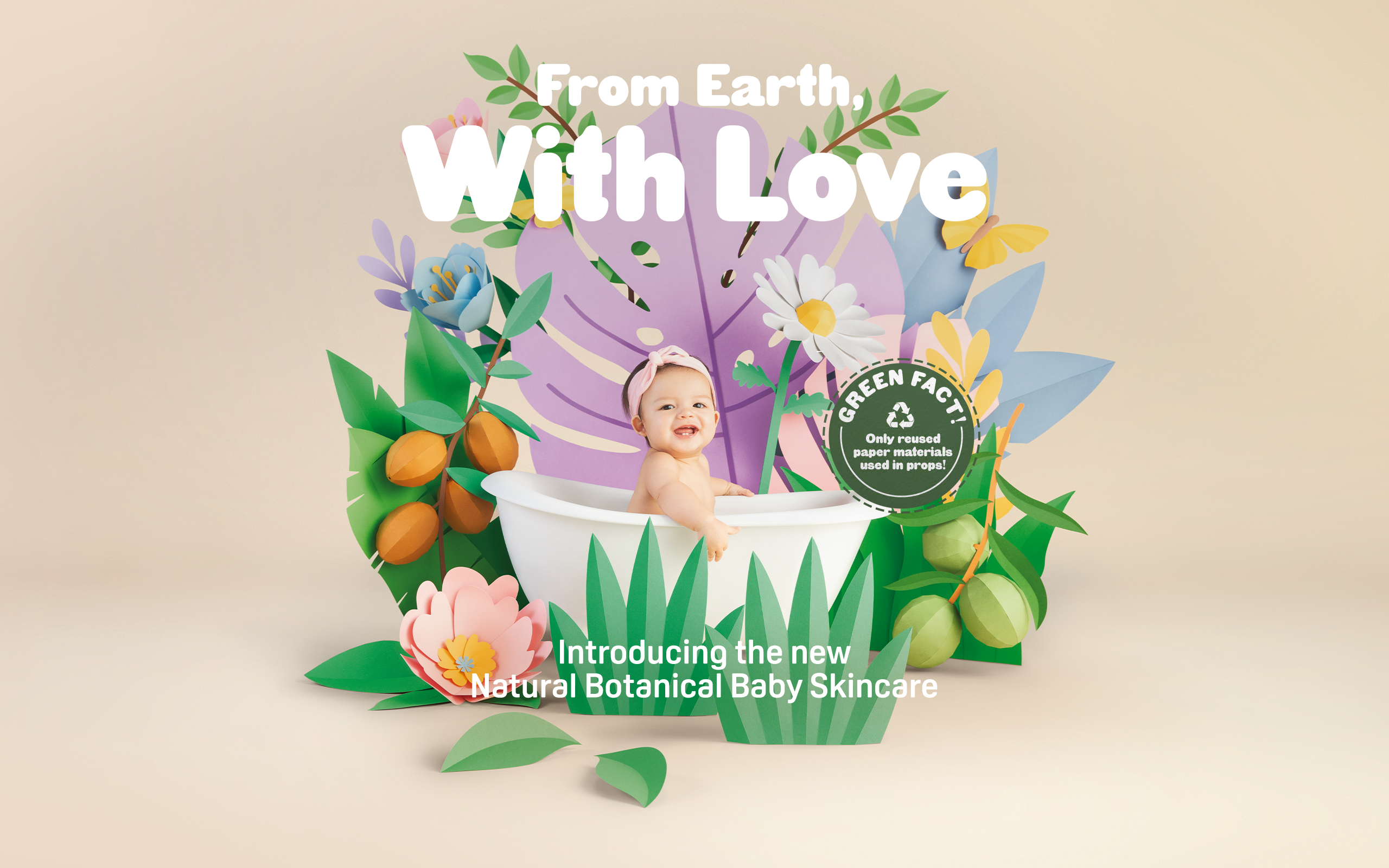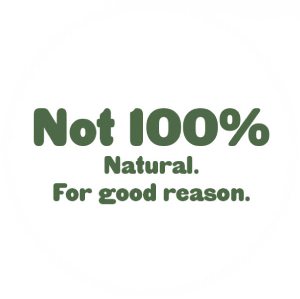 What's Inside?
When we borrow extensively from nature, we know when to stop. Our range consists over 90% natural origin ingredients, but not 100%. Fully natural might not be safe for your baby's skin. Hence, the remaining 10% ingredients are added to improve the safety, integrity and fragrance of our products.
Swipe to see the main plant extracts we work with in these Pigeon baby products.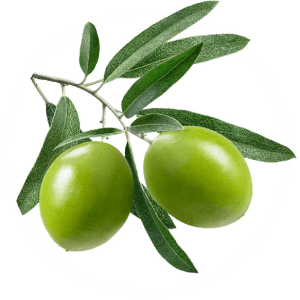 Olive Extract
Treats the skin to anti-oxidants and vitamins
Adds a layer of protection from the elements
Possess the ability to stimulate skin cells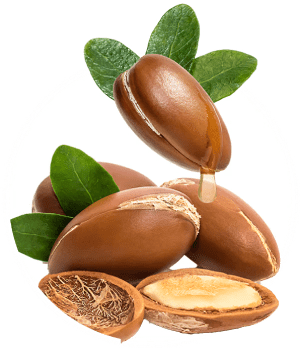 Argan Extract
Rich in Vitamin E and essential fatty acids
Assists with your baby's skin regeneration
Helps build your baby's skin's natural oil barrier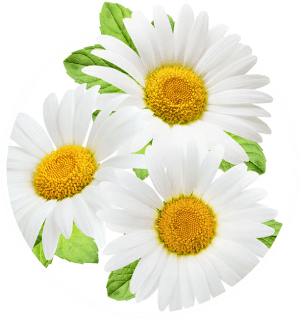 Chamomile Extract
Anti-inflammatory qualities to soothe irritated skin
Facilitates sleep and reduces anxiety
Known natural relaxant to calm your baby
Complete Skincare for Your Little One
When it comes to taking care of your precious little one, nothing is more important than ensuring that their delicate skin receives the appropriate amount of nourishment and protection that it deserves, and that's exactly what Natural Botanical Baby strives to accomplish with every product they create. By thoughtfully selecting ingredients that are derived from nature, they are able to strike the perfect balance that will help to safeguard your baby's skin, leaving it soft, supple, and healthy-looking.
Learn more about our easy baby skincare step below!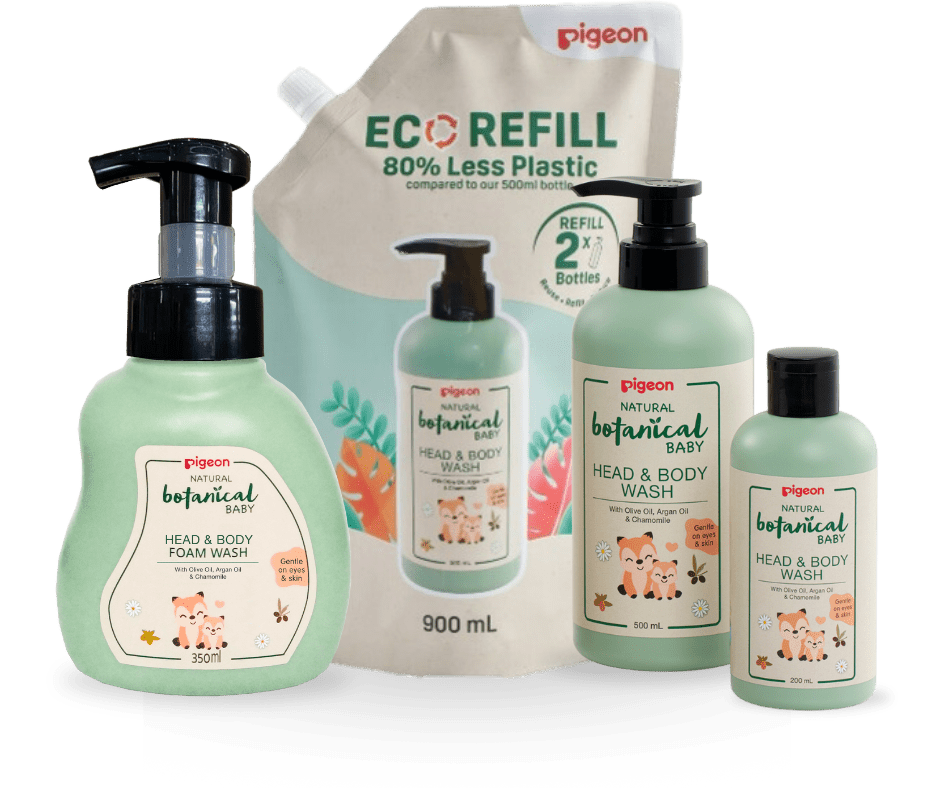 Natural Botanical Baby Head & Body Wash
A head-to-toe wash that cleanses your baby and nourishes its scalp. All the while maintaining the smoothness of your little one's skin.
Shop for baby shampoo Malaysia on Pigeon E-Shop.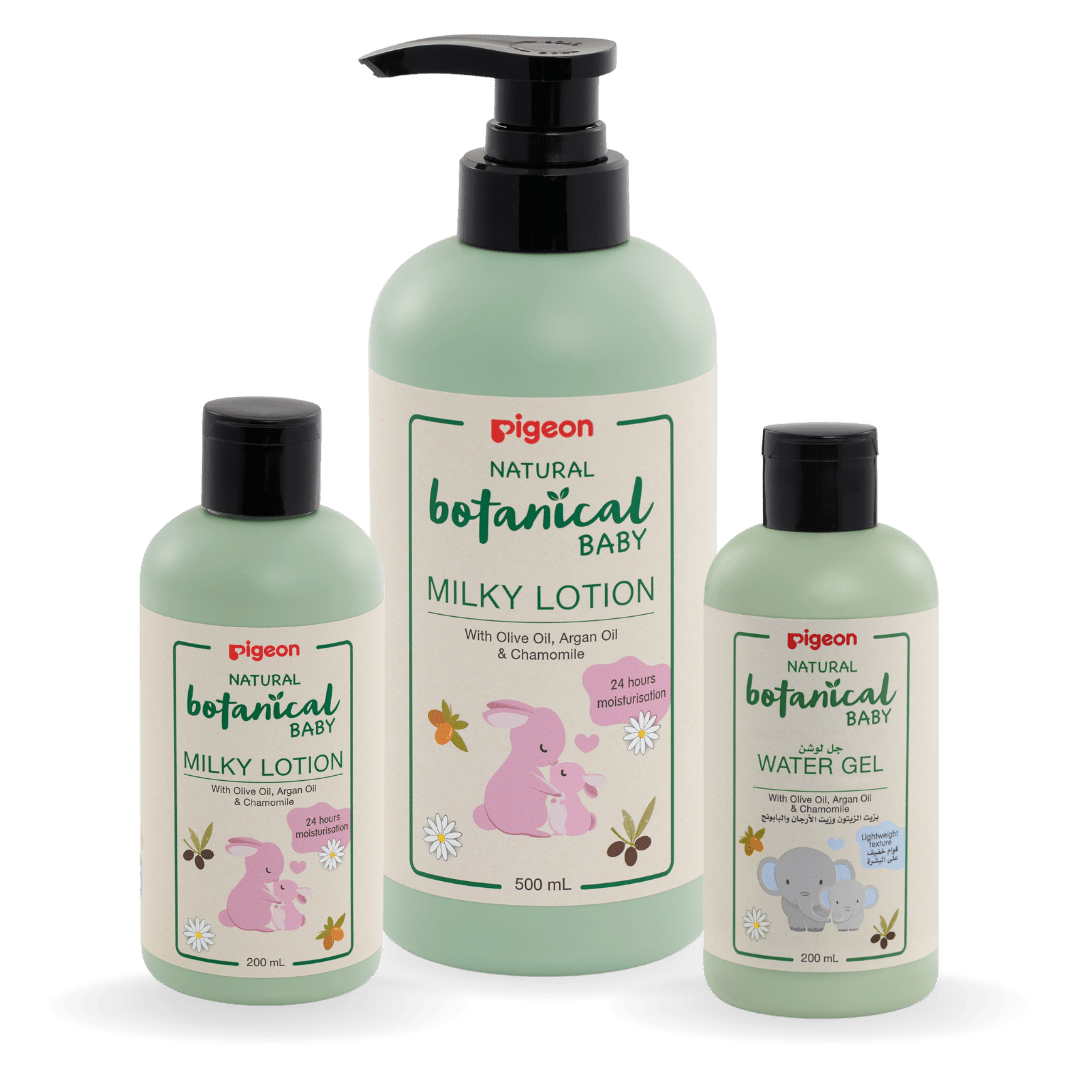 Natural Botanical Baby Water Gel (Day)
A light-weight moisturiser that is easy to apply, gets absorbed quickly and hydrates your baby's skin in no time.
Natural Botanical Baby Milky Lotion (Night)
Offers 24-hour moisturization using a non-greasy formula. Soothes your baby's dry, itchy skin while they sleep.
Shop for baby lotion Malaysia on Pigeon E-Shop.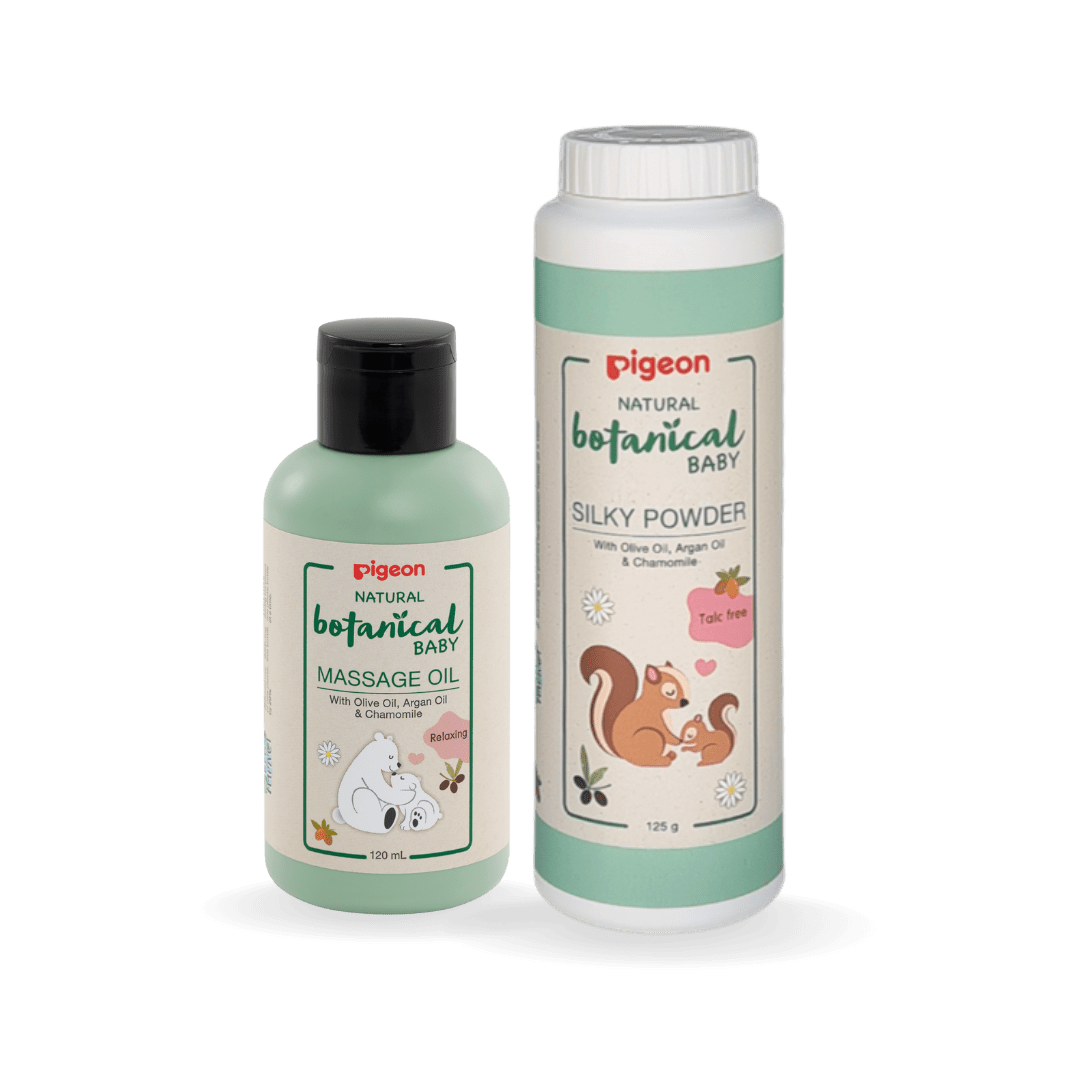 Natural Botanical Baby Silky Powder
A safe, talc-free powder formula infused with natural plant oils to keep our babies' skin dry, smooth and nourished and comfortable.
Natural Botanical Baby Massage Oil
A lightweight oil to calm your baby and enable a good night's sleep. It even moisturizes and nourishes the skin.
Also Available in Travel Set!
If you're a parent who loves to travel but worries about how to take care of your little one's delicate skin while on-the-go, worry no more!
The Natural Botanical Baby Travel Set has been specially crafted to provide you with a hassle-free and worry-free experience. With this comprehensive travel pack, you can now effortlessly wash, nourish, and moisturize your little one no matter where you are, allowing you to focus on making unforgettable memories with your family without any unnecessary stress or inconvenience.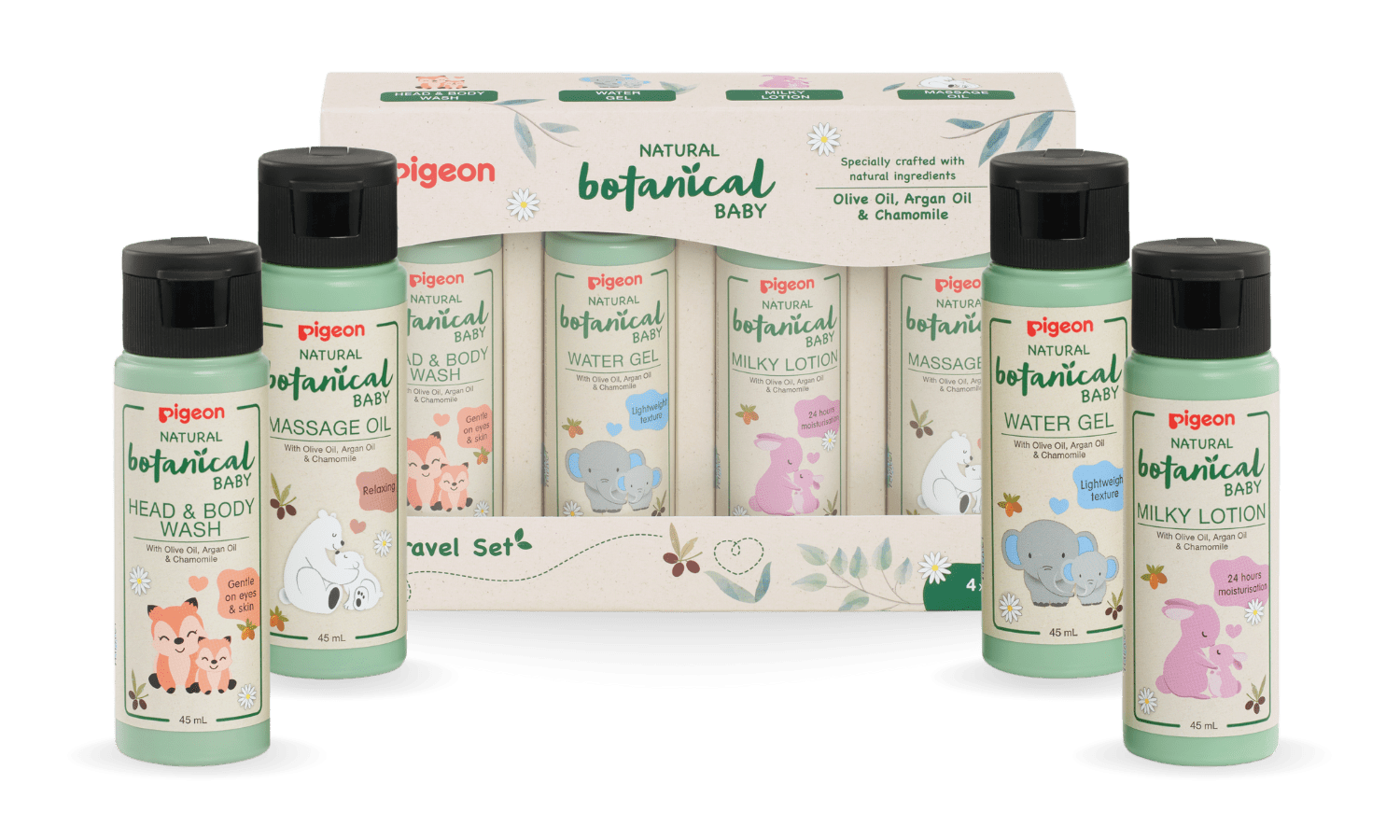 From Earth, With Love
We are for babies. We are also for Mother Earth. While we borrow the best from nature, we are also doing our best to preserve it. We use materials that reduce the impact on the environment, and play an active role in reforestation and sustainability initiatives.
Parents Resource Center
Becoming a new parent can be a joyous and exciting experience, but it can also be overwhelming, especially when it comes to navigating the complex and ever-changing world of baby skincare. With so many baby body products, techniques, and opinions to consider, it's easy to feel lost or unsure of how best to care for your little one's delicate skin.
However, there's no need to fret - armed with a few simple tips and tricks, you can become a pro at keeping your baby's skin healthy, happy, and glowing. So, whether you're dealing with diaper rash, dryness, or simply want to maintain your baby's soft and smooth skin, these guidelines will help you to confidently navigate the often-challenging world of baby skincare.