Recommended for 3+ months baby.
Soft and flexible SofTouch™ Wide Neck teat (M Size) to encourage natural feeding motion.
Step up to Spout Cup (Step 2) by changing from teat to spout to train baby to drink from other openings.
Spill-proof and leak-proof, perfect-fitting hood to prevent leakage.
Angled handles for easy drinking.
Volume : 200ml.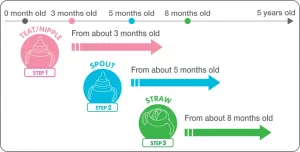 How To Sterilize
Sterilization Method : Boiling, Steaming, Chemical, Microwave.
Part
Material
Heat Resistance
Cup
Polypropylene
110°C
Hood, Cap, Adaptor With Handles, Inner Adaptor, Outer Adaptor
120°C
Nipple, Upper Straw Part, Lower Straw Part, Gasket
Silicone Rubber